Pick your platform
When it comes to IT architecture, there is no one solution that fits everyone. Some swear by the public clouds, others are heavily reliant on their own infrastructure. Whether using a public cloud fits your demands depends on a lot of factors including scalability, bandwidth requirements and throughput.There is also the security aspect to consider. When sharing raw video material or sensitive documents, you need to know where and how it's stored. MediaLab has been developed into a flexible Hybrid Cloud infrastructure so each environment can be tailored to your demands.
MediaLab Cloud platform
Our professional hybrid SaaS platform is being used by users from all over the world to easily view, distribute and archive media files. Ready within minutes, scalable out of the box.
High availability & scalable interface and API.
Hybrid media storage: scalable/geo-redundant Azure or cost-effective Managed environment.
Shared transcoder and workflow integration platform.
Support for Bring Your Own (BYO) storage: possibility to provide cloud storage containers for file & media storage.
Dedicated platform
For customers that require a professional dedicated media distrubition platform and want to integrate their existing infrastructure.
Support for public cloud, hybrid cloud and on-premise deployments.
Suitable for company-wide deployments (tenant per department).
Compatible with existing customer infrastructure (e.g. VMware or HyperV).
Data isolated from other customers.
Professionally managed hosting by MediaLab.
Coming soon: fully self-manageable environment.
Cross-platform features
Archive: archive source material to cloud-based archive storage (Azure/S3 compatible)
CDN: utilize a CDN to distribute media on a large scale
Containers: support for container storage (BYO or hosted)
Hybrid Cloud
Our Hybrid Cloud platform is a powerful and flexible infrastructure where we have separated media storage from the application layer, allowing us to offer MediaLab with a fast, redundant and scalable interface in the cloud, but hooked up to multiple storage solutions to provide the media-related functionality.
MediaLab Cloud - a professional and cost-effective cloud environment offered by MediaLab.
Public Cloud - perfect solution when scalabiltiy and availability across the globe are important.
Hybrid Cloud - media storage & transcoding in your own data center or private cloud, connected to our hybrid interface.
With the media storage and transcoding located in your own datacenter, you get the best of both worlds. The interface and API will be hosted in the cloud, providing a redundant and scalable platform, offloading the network and processing demands from your own infrastructure.
When media files are requested, these will be streamed or downloaded directly from the storage location, reducing cloud costs and enabling all benefits of a full on-premise platform. Additionally, combining a hybrid set-up with a CDN allows for massive scalability.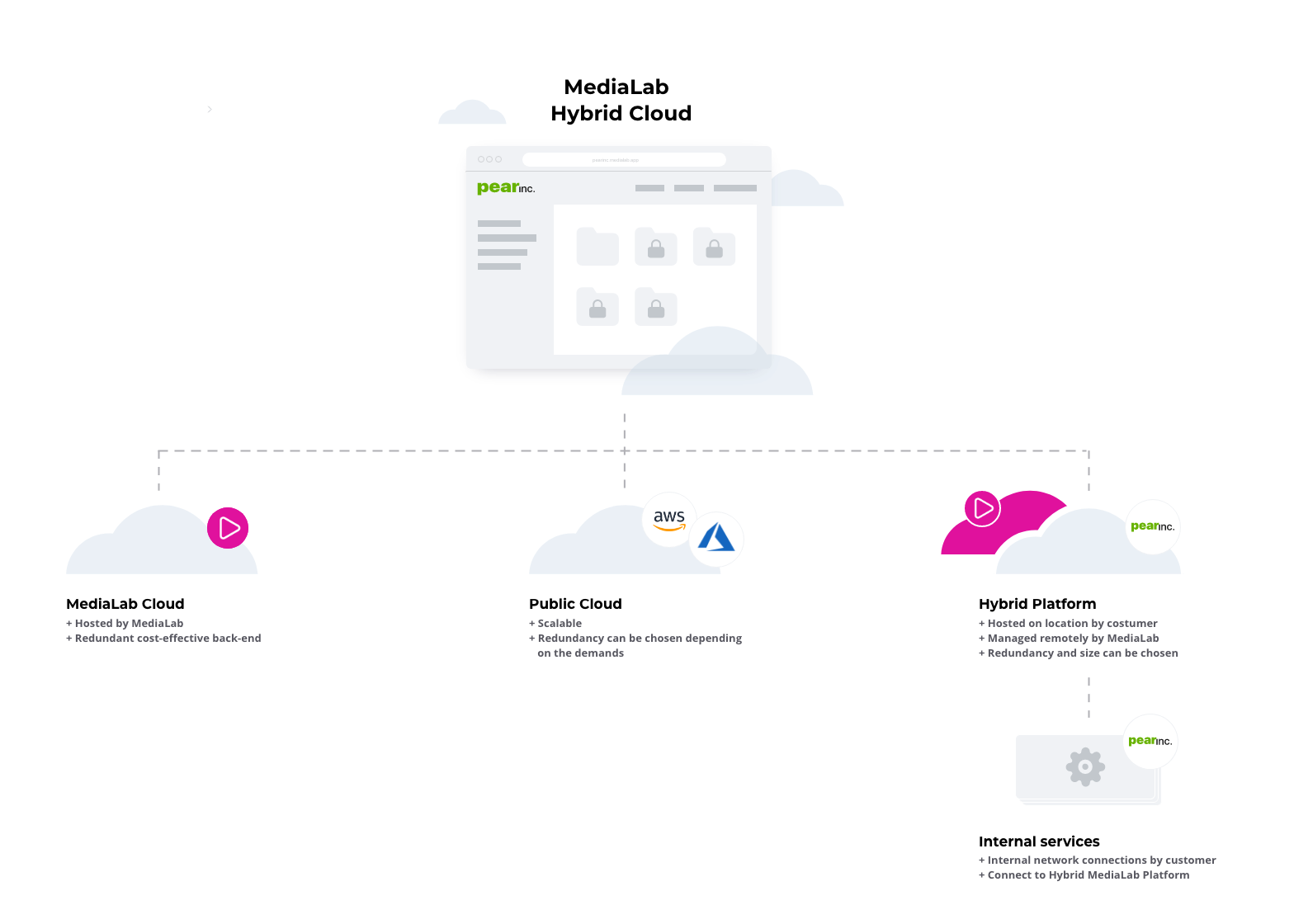 On Premise
The traditional on-premise platforms are still powerful and for good reason. Store your media in your own data center, hook up your media infrastructure on your internal network and enjoy 10 Gbps speeds when transferring files. With our strong background in IT, MediaLab offers managed on-premise platforms, both including hardware and on existing customer infrastructure.
With an on-premise solution, you will run your own copy of the MediaLab platform, making sure you are not dependent on cloud platforms to access your media. With MediaLab we do offer scale-outs for on-prem (like cloud storage for media formats). Before choosing an on-prem platform, consider things like scalability, redundancy, network traffic and maintenance.
High transferring speed - because all content is stored locally in your own datacenter, all media can be transferred rapidly to internal systems like QC, edit suites or broadcast systems.
Data on own premises - no dependency on cloud provider when you can just walk up to your rack and grab your harddisks.
Off-load to the cloud - hooked up to the hybrid platform, you have ultimate flexibility to transfer copies to the cloud for playback while the source remains on local storage.